Ichkeul lake (TUNISIA)
The National Park of Ichkeul is 50 km far from Tunis and 20 km south-east from the city of Bizerte. In 1980 the Lake was classified as a wet area of international relevance (RAMSAR) and the Tunisian Government instituted a national park in the area. Three regions can be identified in the park: the Djebel (the mountain), the Marshes and the Lake.
The Ichkeul Lake is an extremely interesting and fragile ecosystem, and it is one of the most important reserve of fresh water of the country. It has been interested by a national programme for the use and mobilisation of fresh water since 1980, when dams were constructed onto the river entering the Lake, thus considerably reducing the quantity of fresh water in the Lake itself and the marsh where a population of African buffaloes lives.
The on-going management regarding fresh water have already produced some significative changes in the ecosystems of the Lake, for example there has been the substitution of Potamogeton pectinatus by Ruppia cirrosa and other marsh species like P hragmites communis and Typha angustifolia . These changes of the primary trophic chain have already decreased the total number of aquatic birds nesting in the Lake area or passing by during the migrations.
The management to mitigate the salinisation by regulating the inflow of marine water through barriers has had a negative effect on fish and elver migrations.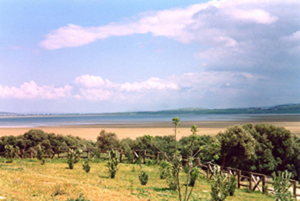 Ichkeul Lake
by Felicita Scapini