Lisa Cangioli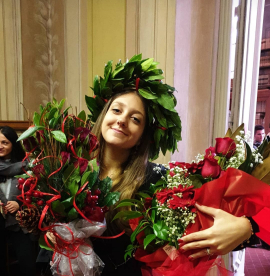 Lisa graduated in Agricultural and Environmental Biotechnologies with full marks in 2019 at University of Florence.
During her bachelor degree she worked on biological soil crusts for land restauration in the Department of agricoltural, food, environmental and forestry Sciences and Technologies (DAGRI) at University of Florence, under the supervision of Prof. Roberto De Philippis.
Her master degree internship has been carried out in the Department of Biology, under the supervision of Prof. Alessio Mengoni on the strain x cultivar variation in symbiosis using S. meliloti and alfalfa as models.
She is interested in the improvement of symbiotic nitrogen fixation and in the molecular aspects of plant-microbe interaction.
After a post-graduate fellowship on the analysis of plant microbiome, Lisa has started a PhD program on the MICRO4Legumes project, aimed to develop synthetic microbiomes with rhizobia and nonrhizobia strains. She is also involved in the SIMBA H2020 project devoted to the use of bioinoculants in agriculture.